Build a whimsical wedding website with Jack & Rose. Powered by the robust page builder, it suits for newbies who don't have time for the hassles. We are aware, preparing your wedding could be very busy and you probably don't have the time to setup a wedding website, or even learning how to build one first. Jack & Rose helps you setup your wedding website in no time. It also has demo data import feature which you can use as a starting point without building from scratch. It comes with many fancy features, like "sakura petal fall effect", "smooth parallax background", "CSS3 animations", "interactive Google Maps", "filterable gallery grid", "RSVP form", "Guestbook page", etc.
Version 1.3 is out! Now with Guestbook and Background Music feature. Check all the new features and bug fixes in the changelog below.
What makes Jack & Rose the best wedding theme ever!
Built with clean vintage design in mind, Jack & Rose suits for your vintage thematic wedding events.
Invite and manage your guests of your wedding events using our RSVP and Guestbook feature.
Jack & Rose is responsive and mobile optimized, so your guests could access your wedding updates from everywhere.
Powered by the robust Page Builder, you can easily build the landing page using drag & drop feature, no coding knowledge required.
A lot of whimsical effects! You can tailor up your landing page with animations, sakura fall effect, and even your romantic background song.
On top of that, you also have our hand to support whenever you hit problems, we provide top-notch support to all our customers.
What's inside the package
Ready-to-install jackrose.zip
Documentation page
Ready-to-extend jackrose-child.zip (Child Theme)
PSD templates: logo (big and small), couple photo frame
One Click Demo Data: prebuilt layout template (via Page Builder)
** The images on the demo page are not included in the demo data import. They all would be replaced by blank gray images.
Beautiful wedding websites built using Jack & Rose
"Jack & Rose is the best wedding theme ever!"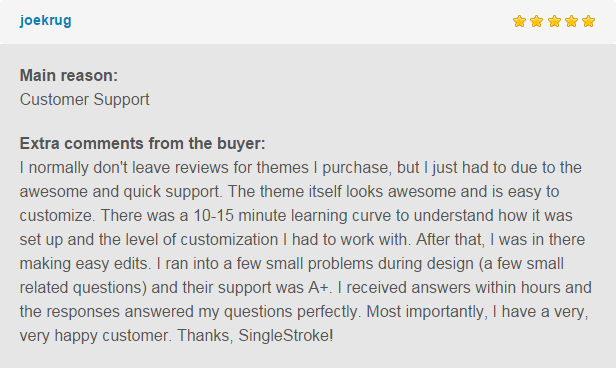 Full features list
Fully responsive and mobile friendly
Retina ready
Clean and modern design
Easy configuration with Theme Customizer
Styled WYSIWYG editor, real visual preview while editing your posts
Google Fonts integration
Color options
Fancy preloader screen
Drag & drop Page Builder
One Click Demo Data: prebuilt layout template
RSVP form
Guestbook page
Gallery grid with filters
Google Maps for showing wedding events location
Sakura / snow fall effect on Hero Section
Elements animation
Background music
Elements animation
Fancy footer background image
Optimized for performance
Support most of 3rd party plugins
SEO friendly
Translation Ready, using .po file
Documentation page
Updates changelog

v1.3 - 1 April, 2016
- Add: Guestbook integration (via Gwolle Guestbook plugin)
- Add: Background music to pages
- Add: Demo data import
- Add: Blank page template
- Updat: Buttons widget now has "open in new tab" option
- Updat: Comment form CSS styles
- Updat: Quote Slider widget now has auto slide option
- Updat: All grids elements now has 1 column option
- Updat: Convert "hero position" option to "header position" 
- Updat: Disable Google Maps draggable on mobile devices
- Updat: Google Maps pin now supports HTMl tags
- Updat: JS libraries version
- Updat: Google Maps loading performance
- Fix: Preloader logo issue
- Fix: "Enter site" link is not showing if there is no preloader logo
- Fix: Dropdown menus on touch devices

v1.2 - 8 January, 2016
- Add: Hero section position (above / below header)
- Add: Hero section button (default "Enter Site")
- Fix: JS bug when preloader is disabled
- Enhance: Google Fonts select now is sorted alphabetically
- Enhance: Documentation now contains video tutorials
- Enhance: (Mobile) Navigation menu will collapse after clicked
- Updat: FontAwesome 4.5.0

v1.1.1 - 9 December, 2015
- Fix: Google Fonts embed bug
- Enhance: Google Fonts select now is sorted alphabetically

v1.1 - 8 December, 2015
- Add: Options to hide Sidebar in default pages (blog home, archive, search, single, other pages)
- Fix: Kirki Toolkit v2.x issue
- Update: Remove some Unneccessary files

Need help?
Please head over to our support page.
Thanks for checking out Jack & Rose!
If you have any questions or comments in mind, feel free to contact us. We also love hearing some feedback about our products and services. Reach us from our profile's contact form and see you!